A symposium report from the Fall ACS San Diego 2019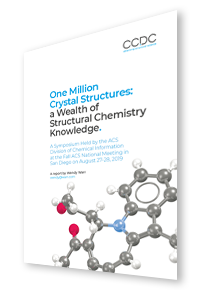 In recognition of the recent milestone of one million crystal structures shared through the Cambridge Structural Database (CSD), CCDC were involved in the organization of a symposium at the Fall ACS meeting, an event that highlighted the insights that can be derived from a collection of data such as the CSD.
The symposium "One Million Crystal Structures: A Wealth of Structural Chemistry Knowledge" – which was organized by Heba Abourahama of The College of New Jersey, Martin Stahl of Roche and Ian Bruno, Director of Strategic Partnerships at the CCDC, celebrated the many applications of structural knowledge that can be derived from collections of 3D structural data such as the CSD.
This report by Wendy Warr provides a summary of the many excellent talks from industry experts at the symposium who presented on a range of topics around how crystal structure data, information and knowledge can be applied to areas such as medicinal chemistry, drug design, development of chemical products and materials engineering. In addition, there were some great examples of how structural chemistry resources such as the CSD can be used to support teaching and information retrieval goals.
Download this report for free to find out more.