With advancements in cloud computing, and the availability of large and high-quality datasets of potential ligands, it is now possible to perform virtual screening studies at ultra-high-throughput scale whilst incurring only modest costs.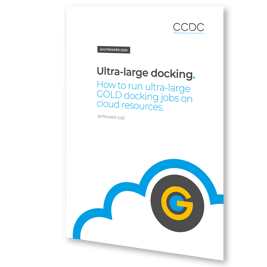 This whitepaper details how GOLD, a comprehensively validated and widely used docking software, was used to perform a virtual screen on cloud resources.
Download the whitepaper to learn:
How to run ultra-large GOLD docking projects on standard cloud computing environments.

The methods and cloud environment used to perform the virtual screen.

The time and cost of the 126 million ligand screen performed in this work.

The ability of GOLD to return known ligands seeded in the dataset to assess enrichment.
New to GOLD? This comprehensively validated docking software is trusted by scientists around the world.
Learn more and find literature examples here.